Mycket spännande kombination! Vi förväntar oss valpar med stor jaktlust, utmärkt exteriör och underbar mentalitet. I valparnas treledsstamtavla är 12 av 14 hundar jaktmeriterade! Vi är hittills enda uppfödare av weimaraner som har tre generationer jaktchampions i rakt nedstigande led i valparnas stamtavla!
Very exciting combination! We expect that these puppies will have a great desire for hunting, excellent exteriour and marvellous temper. In the puppies threegeneration-pedigree, twelve out of fourteen dogs have prizes from fieldtrials! We are, this far, the only breeder having three generations of fieldtrialchampions in the puppies pedigree!


Nisse & Carma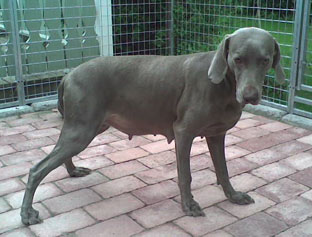 Carma börjar bli tjock...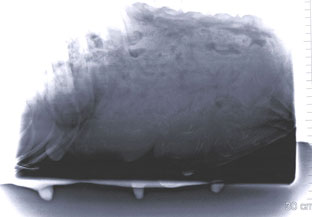 Röntgenbilden vi tog 2008-05-23 / X-ray at 7 weeks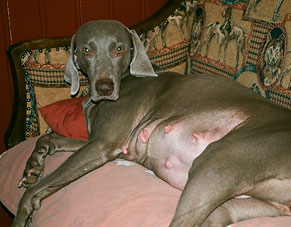 Carma i kökssoffan / Carma in our kitchen-sofa
2008-06-06:
Carma väckte mig 0500 på morgonen. Då tyckte hon att det började bli dax att gå ut i valprummet. Husse åkte till jobbet, han sa: "ring mig när det börjar hända något..." 0915 kom första riktiga krysten, jag ringde Nicke så han kom hem, och 0925 var första valpen född!
Carma woke me up at 0500 in the morning. She thought it might be a good idea getting into the puppy-room. Nicke went to work, telling me to call "when things start to happen..." At 0915 she started to push very hard, I phoned Nicke and he got home. At 0925, the first puppy was born!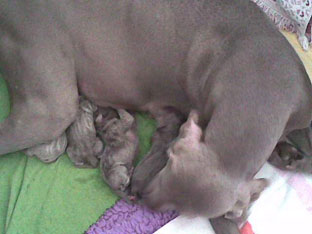 Tre tikar och en hane födda!
Three females and one male are born!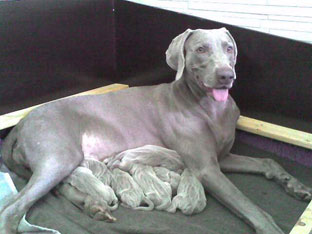 Sju valpar födda!
Seven puppies born!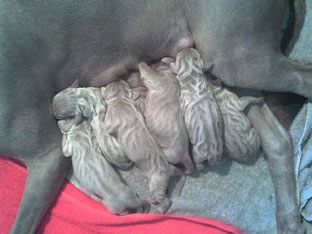 Alla åtta: fyra hanar och fyra tikar.
All eight: four males and four females.
2008-06-07:
Natten har varit lugn. Nicke har sovit med CARMA och valparna, PIMM och jag har haft sängen för oss själva. Mor och valpar mår fint! BABBEN förstår precis vad det handlar om när all smutstvätt åker in i maskinen, hon sniffar på de härliga dofterna och bara viftar på svansen... Hon har ju blivit mormor igen!
Så får man väl börja fundera på namn och var kronjuvelerna ska bo... Namnen är den enkla biten, det blir väl whisky för herrarna och cocktails för damerna i vanlig ordning!
We have had a calm night. Nicke has slept with CARMA and the puppies, PIMM and I have had the bed for ourselves. The mother and puppies are doing fine! BABBEN sure knows exactly what´s going on when all the dirty laundry goes into the washingmachine, she can smell it all and just keep on wagging her tail... She has become granny again!
It´s soon being time to think about names and where are jewels will live in the future... The names are the easy part I guess, whisky for the gentlemen and cocktails for the ladies, as usual!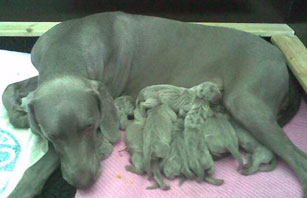 En dag gamla.
One day old.
2008-06-08:
Ännu en lugn natt. CARMA är en fantastisk mor! Ännu mer fantastiskt är jämnheten i kullen - inte bara att det blev en jämn fördelning - det diffar 40 gram i skillnad på den största och minsta i födelsevikt! Vi har aldrig varit med om en så jämn kull. Det brukar ju alltid vara någon liten eller någon stor, som man pratar om i en kull... Det är tur att de har en och annan vit fläck så vi kan skilja dem åt!
Another calm night. CARMA is a fantastic mom! Even more fantastic is that the litter is so even - not only the fact that there are four of each - the difference between the biggest and the smallest at birth was only 40 gram! We have never had such an even litter. Normally, you allways talk about the small one or the big one in a litter... Lucky us, there are some white markings so we´re able to see who´s who!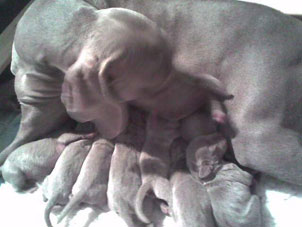 2008-06-10:
Fyra dagar gamla. Alla har gått upp bra i vikt och mamma Carma pysslar om...
Four days old. All has now a good weight and dear Carma is nursing them...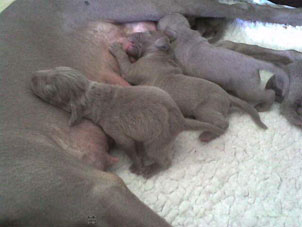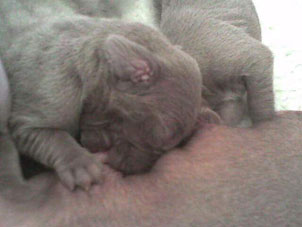 2008-06-15:
Nio dagar gamla. Alla har fördubblat sin vikt och nu börjar de få ögon.
Nine days old. All has now doubled their weight and they are starting to open their eyes.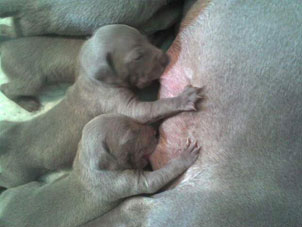 2008-06-19:
Tretton dagar gamla.
Thirteen days old.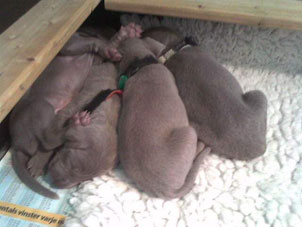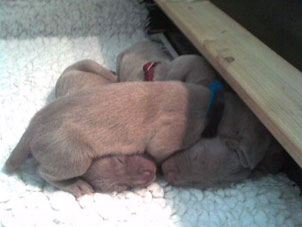 2008-06-22:
Sexton dagar gamla.
Sixteen days old.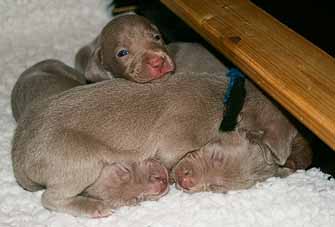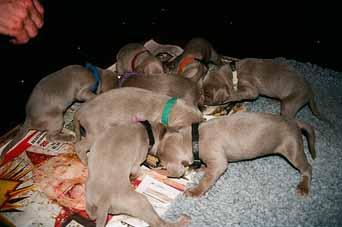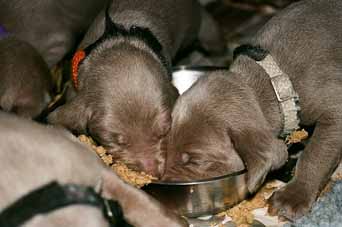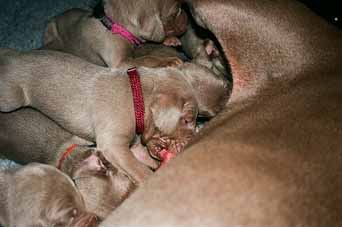 Tre veckor gamla.
Three weeks old.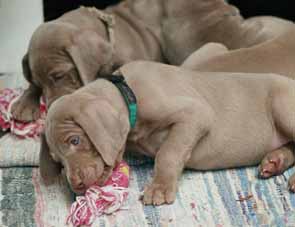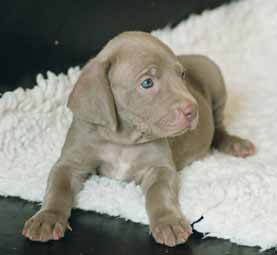 Fem veckor gamla.
Five weeks old.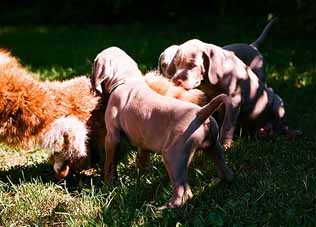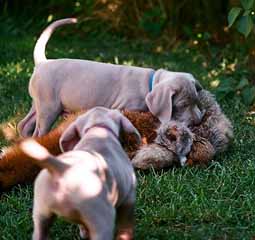 Åtta veckor gamla, leker med räven.
Eight weeks old, playing with the fox.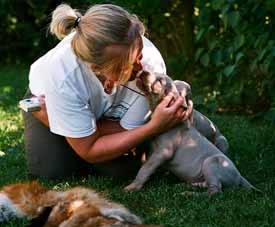 "Farmor" Bettan och valparna.
"Grand-ma" Bettan and the puppies.