NORD JUNV-11
Scuba´s Millionaire Cocktail
"Tosca"
Ägare:
Owner:
Tiina Turtola, Finland
HD:
A
Övriga veterinärundersökningar:
Other vet. exams:
ED: 0/0, Knee: 0/0. Distichiasis: todettu.
Jaktprov:
Huntingtests:
Ökl fält: AVO 3 pris (SF).
Openclass FT: AVO 3rd prize (SF).
Utställning:
Show:
9x Exc, 3x CERT, R-CERT, 2x CACIB, 2x BIR, NORD JUNV-11
Qualified for Crufts. Exc in open at WW-show 2014.
Lydnad/Obedience:
ALO 3 pris
3rd prize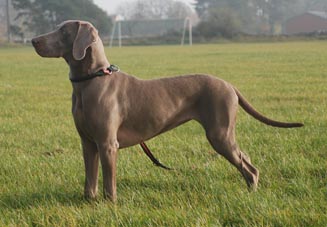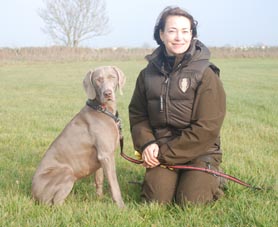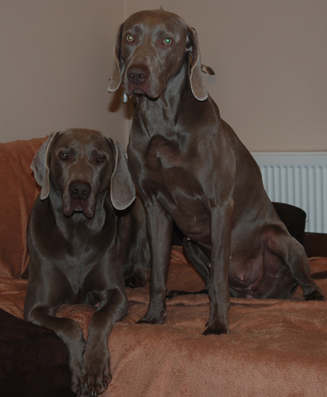 Foldek & Terra

2010-12-26: TERRA and her tummy; shaved due to the ultrasound. No doubts - five weeks of pregnancy!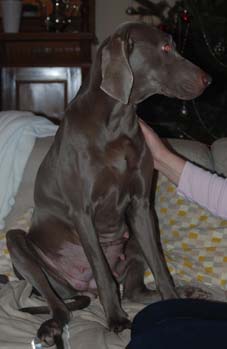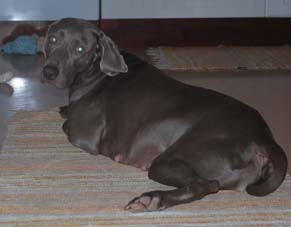 2011-01-02: TERRA and her tummy; six weeks of pregnancy, getting bigger every day...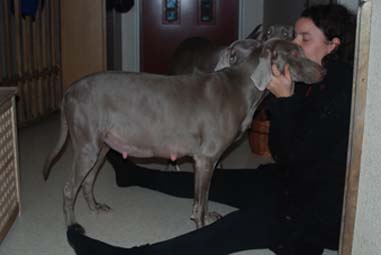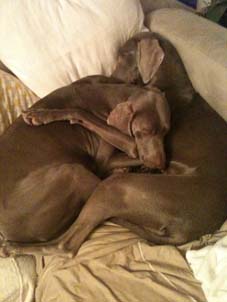 2011-01-09: TERRA and her tummy; seven weeks of pregnancy. Left: Kisses and hugs with Catrin. Right: Cuddling in the sofa with POSH.

2011-01-11:
Vi har röntgat TERRA idag, mest för att kanske se hur många valpar det kan tänkas vara. Vi har aldrig förr haft en tik som blivit tjock så tidigt som TERRA. Bilderna blev i lite olika vinklar och det är trångt därinne. Vi kan inte riktigt säga hur många det är, men de tror att det är 8 eller 9. Inte 7 som veterinären sa på ultraljudsundersökningen ;) Det var väldigt svårt att räkna på bilderna. Jag kommer att lägga ut dem på hemsidan senare.
TERRA mår fint, äter, sover, myser och blir bortskämd. Precis som hon ska. Till helgen tar vi fram valplådan så hon får bekanta sig med den och fixa lite. I och för sig, så är hon ju själv född i den, men nu blir det ju lite annat…
we did an x-ray today, just to count how many babies there are... We have been a little bit concerned about TERRA since she sure is BIG already!!! Haven´t had a girl that has been this BIG so early, and she is not the biggest normally…
Anyway, we did see 8 or 9 puppies! Not 7 as they said at the ultrasound ;) We will get the x-ray from the vets, so later on we´ll put the picture here.
TERRA is doing fine, eats a lot, sleeps a lot and being spoilt as she should. Next weekend we will prepare the puppy-room so she will get time enough to "room in". ...

2011-01-19:
TERRA startade ganska tidigt på morgonen, klassiska tecken på att nu är det inte långt borta...
Tempen var låg, hon vägrade äta annat än kokt kyckling, tydliga förvärkar. Emellanåt gick hon ut i valplådan och bäddade och hässjade...
TERRA started it all very early in the morning, having classic signs that the birth of the puppies was not far away...
The temperature was low, she refused eating anything but boiled chicken and had some labour-pushes. Sometimes she went to the whelping-box to "room in" it...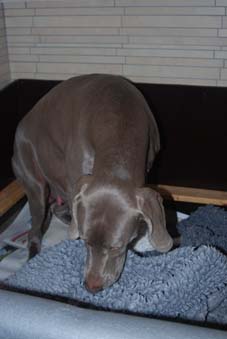 Så, äntligen, startade det på kvällen.
Vattnet gick kl 20:10, tretton minuter senare var den första valpen ute!
De första fyra valparna kom inom fyrtio minuter, hon jobbade på bra. Det var knappt vi hann med!
Sedan tog hon det i lite lugnare tempo. Skönt. Hon hann vila lite emellan, och kl 00:56 kom den sista valpen ut. Totalt blev det fem hanar och tre tikar. Alla mår fint, och de är otroligt jämna och ser välmående ut. De var alla väldigt snabba att hitta mat! Bra! TERRA är en otroligt duktig mamma och pysslar om sina små. Vi måste lyfta henne ur valplådan emellanåt för att hon ska gå ut...
Nu är det bara att hålla tummar och tår att det fortsätter lika fint som det börjat!
So, finally, in the evening it all started.
The water broke at 20:10, thirteen minutes later the first puppy was out!
The first four came in only fourty minutes, she did a great job. We hardly didn´t catch up in her speed!
Then, she was a little bit calmer. Good. Some resting in between, and at 00:56 the last puppy was out. There are now five males and three females. All are doing fine, they are very even in size and look healthy. They were all very fast to find food! Good! TERRA is a fantastic mom och nurses her little ones. We do have to lift her from the whelping-box to take her out...
Let´s keep our fingers crossed that it all works out nicely, the way it all started!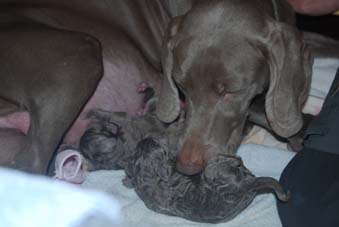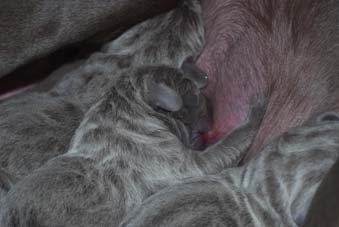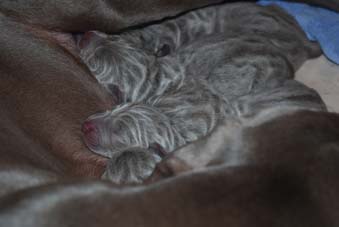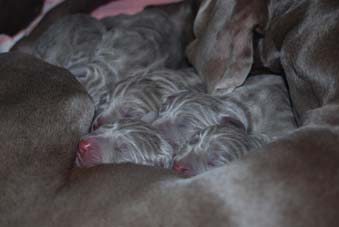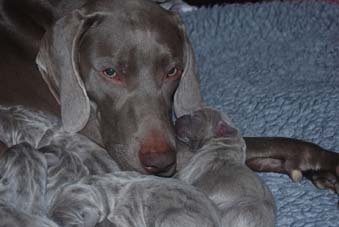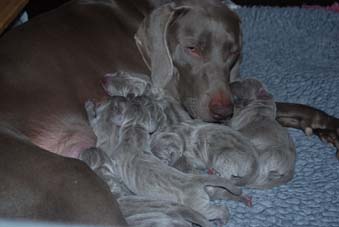 2011-01-21:
TERRA och valparna mår fint. De är nu två dagar gamla!
TERRA and the puppies are doing fine. They are two days old!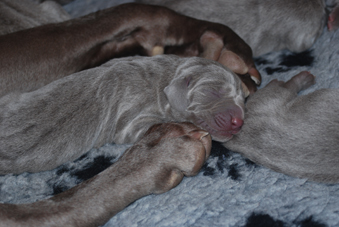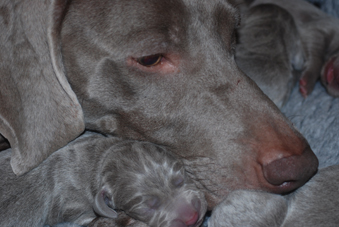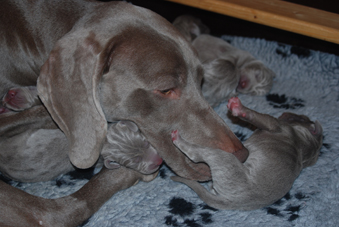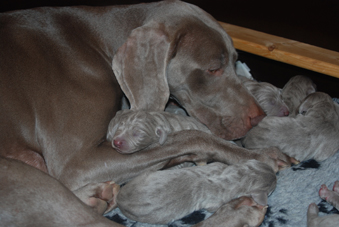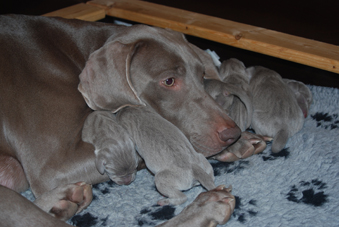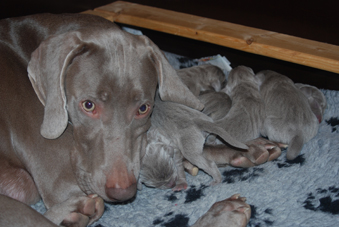 2011-01-24:
Fem dagar gamla! Alla har ökat fint i vikt.
Five days old! They have all gained weight nicely.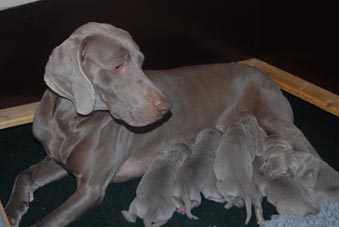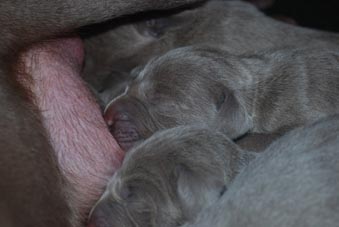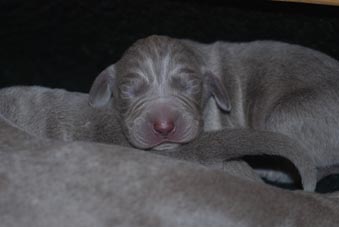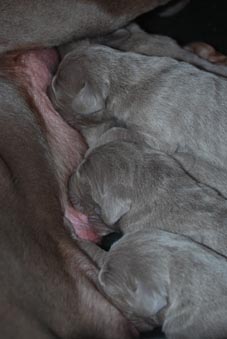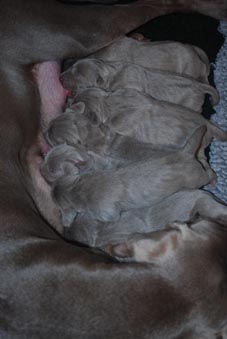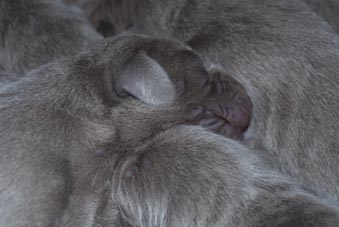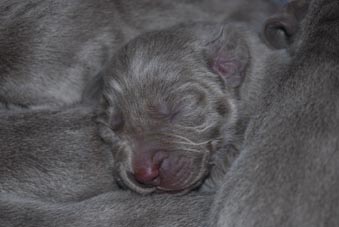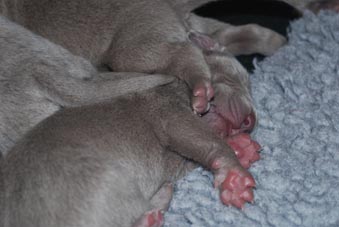 2011-01-26:
En vecka!
One week!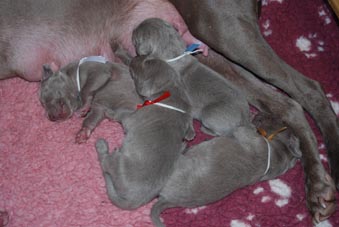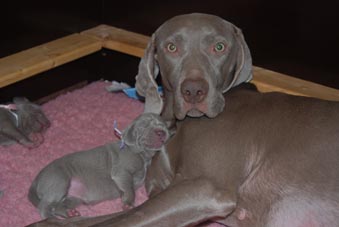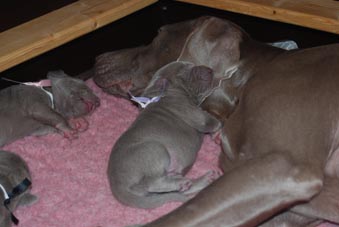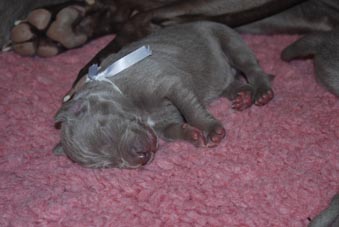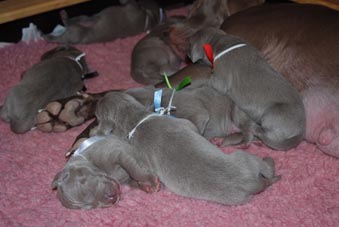 2011-01-29:
Tio dagar! De börjar få ögon nu och alla har fördubblat sin födelsevikt.
Tio dagar! They start to open their eyes and they have all doubled their weitght since birth.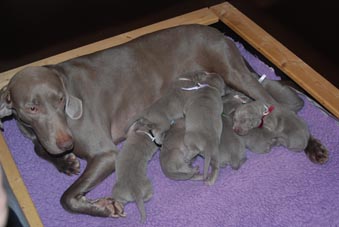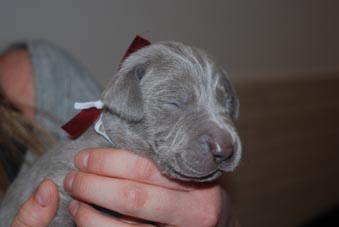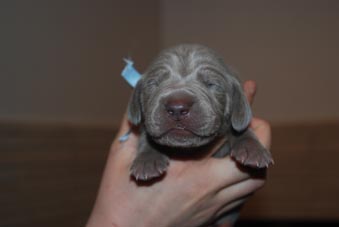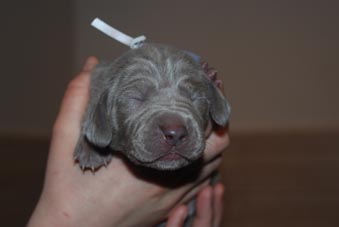 Mr Winered, 922 g. Mr Blue, 947 g. Mr White, 947 g.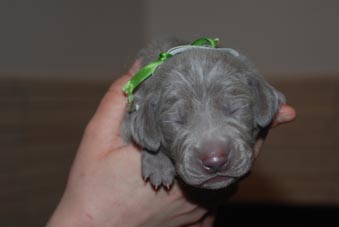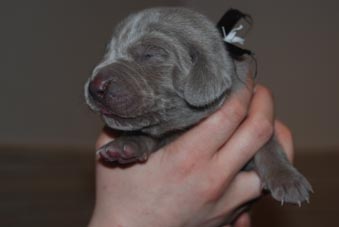 Mr Green, 1002 g. Mr Black, 995 g.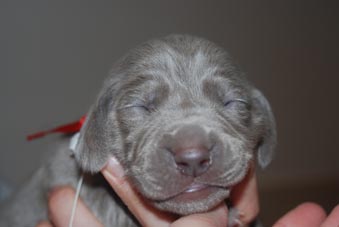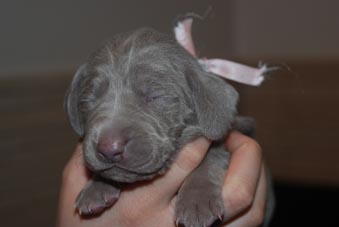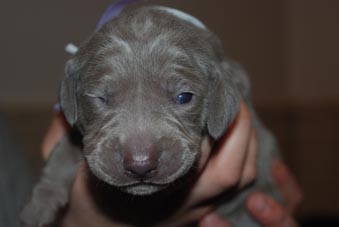 Miss Red, 902 g. Miss Pink, 1049 g. Miss Purple, 1105 g.

2011-02-02:
Två veckor!
Two weeks!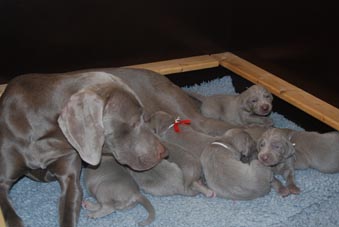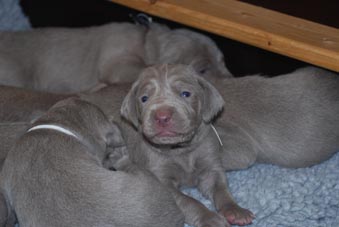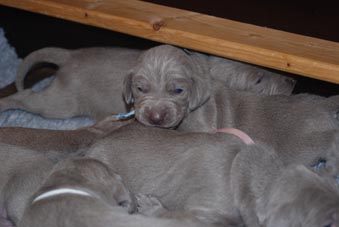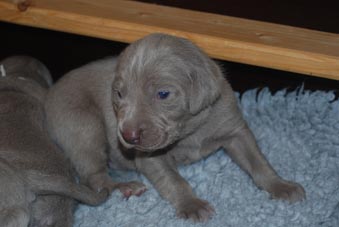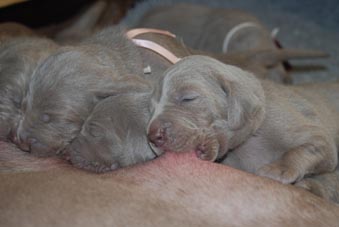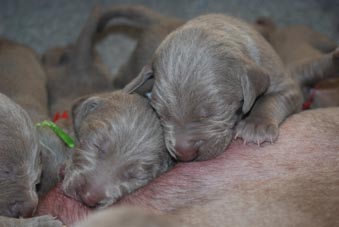 2011-02-09:
Tre veckor! Nu har de fått "riktig" mat för första gången. Fast mammas mjölk är bäst...
Three weeks! They have been eating their first "proper" meal. But, mummy´s milk is preferable...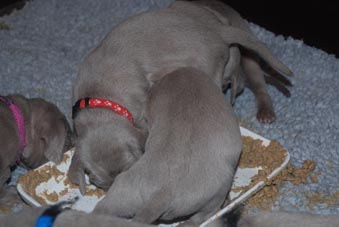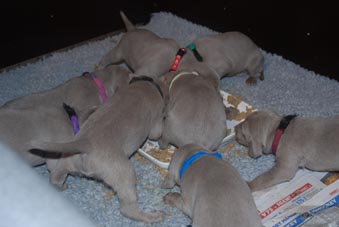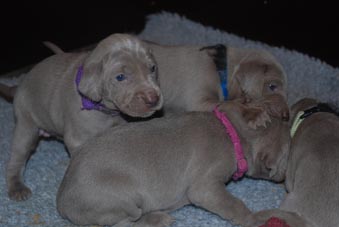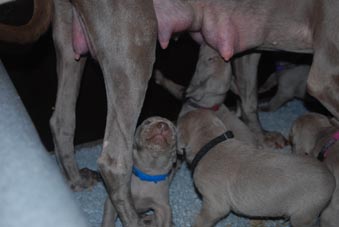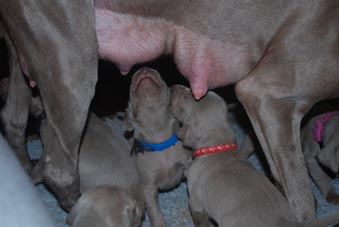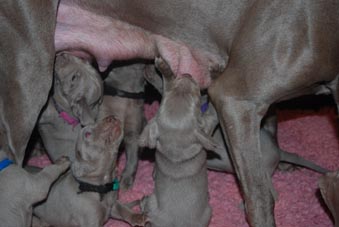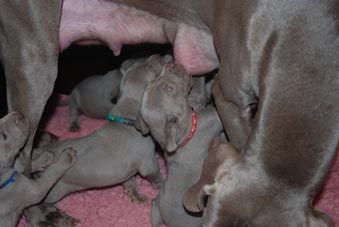 2011-02-20:
Fyra och en halv veckor!
Four and a half weeks old!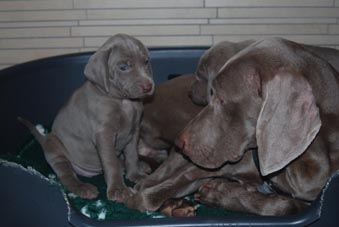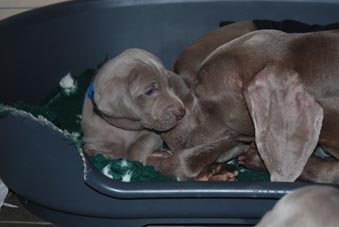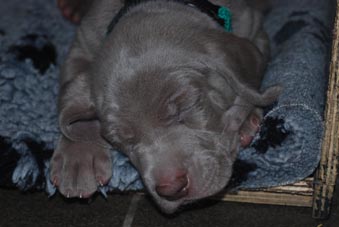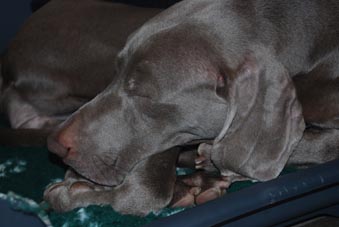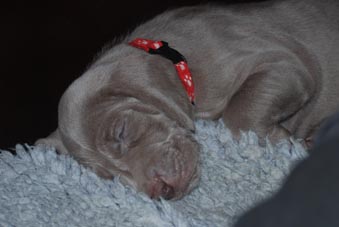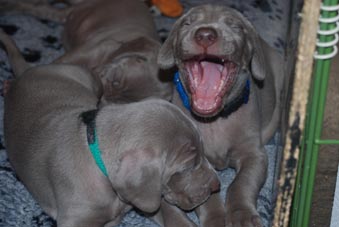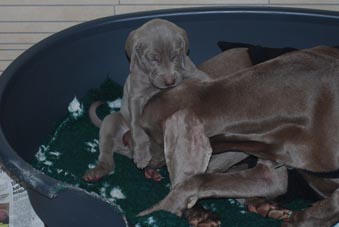 2011-03-10:
Sju veckor!
Seven weeks old!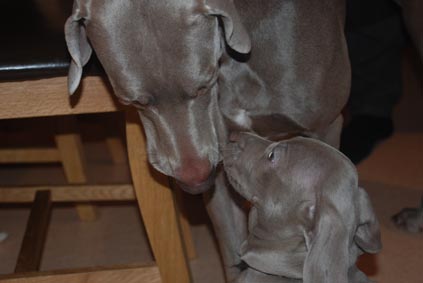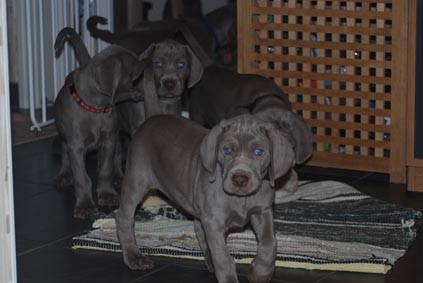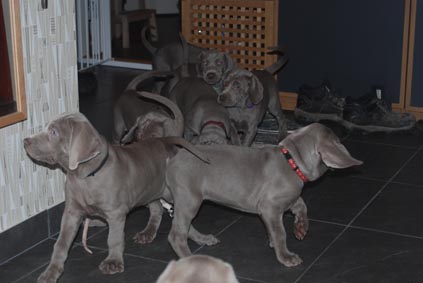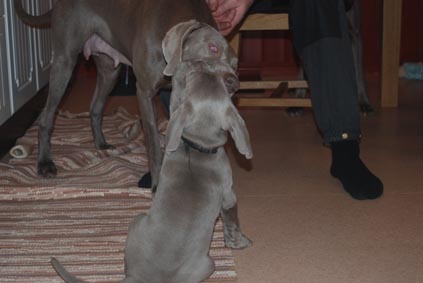 >