| | |
| --- | --- |
| | |
| Babben 6 veckor | Asti (överst) och Babben 6 månader |
BABBENs far Cassius vom Münsterland, valdes mycket noggrannt ut ur tyska weimaranerklubbens avelshundsförteckning. Dels var han obesläktad med de linjer som sedan tidigare fanns i Sverige, och efter ett noggrannt urval återstod endast två mycket högt meriterade hanar, varav CASSIUS var en. Vi valde att åka och se och lära känna honom. Efter detta mycket givande besök stod vårt val fast: honom ska vi ha! Uppfödare: Züchtergemeinsshaft Lintel-Höping, Greven och ägare: Günter Dahms, Wangersen. Bak i CASSIUS stamtavla finner vi mycket högt jaktmeriterade hundar. CASSIUS används till praktisk jakt: vildsvin, hjort, änder, fasaner...
CASSIUS meriter: VJP 66 st, HZP 168, HZP 178, VGP 302/1, SwI/, HN, sg/sg, rgr, 66 cm, WF 3. HD: A2.

The sire of BABBEN, Cassius vom Münsterland, was thoroughly chosen from the german weimaranerclub studdoglist. He is not related to the dogs in Sweden and he was one of the two dogs remaining from our very hard selection. We wanted to know him better so we went to see him. We were very pleased and he was chosen for our litter. Breeder: Züchtergemeinsshaft Lintel-Höping, Greven, and owner: Günter Dahms, Wangersen. In CASSIUS pedigree, we find lots of dogs with very good prizes from huntingtests and good hipscores. CASSIUS is a very good hunter: wild boar, deer, ducks, pheasants...
CASSIUS prizes: VJP 66 st, HZP 168, HZP 178, VGP 302/1, SwI/, HN, sg/sg, rgr, 66 cm, WF 3. Hip-X-rayed: A2.
BABBENs mor LP SUCH SJCH DKUCH INTUCH Disodil´s Metall Jacket, "ASTI", var en mycket stor personlighet. Uppfödare: Magdalena Karlsson, Rottne. Mer läsning om henne och hennes meriter finner ni på ASTIs sida!

The dam of BABBEN, LP SUCH SJCH DKUCH INTUCH Disodil´s Metall Jacket, "ASTI", was a dog with great personality and lovely character. Breeder: Magdalena Karlsson, Rottne. You can read some more about her and all her prizes/awards on her own site!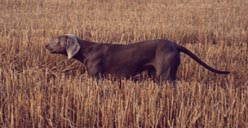 Babben står för rapphöns!
BABBEN hade sin första kull valpar med HOLLCH LUXCH VDHCH BELGW-97,-99 INTCH VHD EURSIEGER-96 EURCHAMP-96 CLUBWINNER-99 BELGCH UV-2000 The Rise And Grayshar Royal Heir, "Roy". BABBENs andra kull föddes i april 2002. Far till dessa är LP I BSL I SUCH Grim. BABBENs tredje och sista kull föddes i januari 2004, och far till den kullen är SV-02 SVCH Greydove Nordic Liaison. BABBEN har fött 23 valpar, varav vi har exporterat till Danmark, Finland, Norge och Lettland. Om dessa valpar bör nämnas att nio av dem är jaktprovsmeriterade (i Sverige, Danmark, Norge och Lettland), två av dessa är jaktprovschampions, och 17 av 19 hd-röntgade avkommor är hd-fria. Mer om alla valpar kan ni läsa om på kullarnas egna sidor!

BABBEN had her first litter with the fabulous HOLLCH LUXCH VDHCH BELGW-97,-99 INTCH VHD EURSIEGER-96 EURCHAMP-96 CLUBWINNER-99 BELGCH UV-2000 The Rise And Grayshar Royal Heir. Her second litter, born in April 2002, was sired by LP NORDUCH Grim. The third and last litter, born in January 2004, was sired by SV-02 SVCH Greydove Nordic Liaison. BABBEN has had 23 puppies and we have exported some of them to Denmark, Finland, Norway and Latvia. Worth to mention is that nine of the puppies have been awarded at fieldtrials (in Sweden, Denmark, Norway and Latvia), two of them being fieldtrialchampions, and 17 out of 19 hip-x-rayed are free from hip-dysplasia. You can read about the beautiful children on the litter-pages!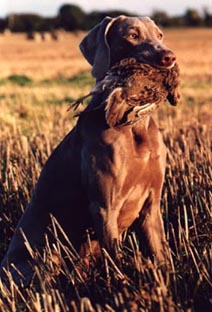 Vi valde att vänta med att para henne tills hon blivit Svensk UtställningsChampion. Hon är vår första egenuppfödda champion, vilket vi naturligtvis är mycket stolta över!
Vi har använt BABBENs kullbror WISSE som far till vår kull med DISA. Om dessa valpar kan ni läsa mer om på vår sida "kullar". Denna kombination var en linjeavel på Zoola, den tik som då lämnat flest jaktmeriterade avkommor och barnbarn, varav tre champions.

We wanted to wait breeding her until she finished her Championtitle. She´s our first ownbred champion, which we´re very proud of. A litterbrother of BABBEN, a k a "WISSE", is sire to our litter with DISA. Have a look at them on our litter-site. This combination is a linebreed on Zoola, the bitch that then had the most puppies in Sweden with prizes from field, three of them are Champions.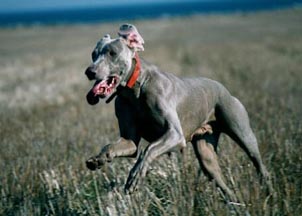 BABBEN är en unik hund, hennes valpar blir unika med två generationer jaktchampions i stamtavlan. Att hon sedan lyckats med prestationen att ta fyra förstapris på raken på fältprov är i sig unikt: ett i öppenklass och tre i elitklass! Ingen weimaraner har hittills lyckats med detta!

BABBEN is a rather unique dog, as well as her puppies with two generations of huntingchampions in the pedigree. As if that wouldn´t be enough, she has managed to have four firsts from huntingtests in a row: one in openclass and three from elit-class! No weim has so far succeeded in that! Wow, we sure are proud!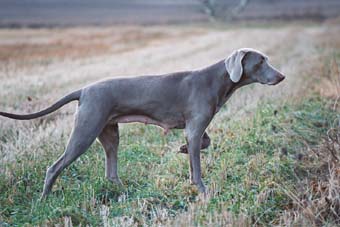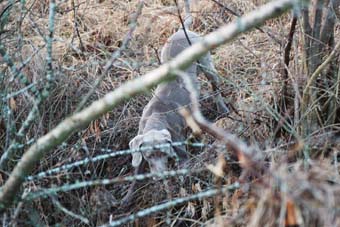 Januari 2005.

BABBEN är en mycket trevlig personlighet, är mycket social, lättsam och väldigt lyhörd i alla situationer. Hon är vår clown och tar livet med en klackspark. Hon har lätt att lära och vi vet nu att hon har axlat sin mors mycket tunga mantel. Som jakthund är hon suverän, vi har jagat det mesta med henne: fasan, rapphöns, ripor, kanin, hare, rådjur, älg, räv...

BABBEN is a very nice and sweet dog, social, lot of will-to-please. She´s definitely our clown. She´s a quick-learner too, and she truly has followed the footprints of her beloved mom. As a hunter she´s astonishing. We have through the years hunted a lot with her: pheasants, rabbits, hare, roedeer, elk, foxes, grouse...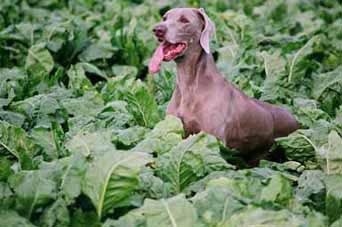 Babben på rapphönspremiären 2007.

2010-06-24:
Hennes höghet har lämnat oss, BABBEN har somnat in.
Det var ett beslut vi var tvugna att ta. Benen ville inte mer, hon var vimsig och tappade balansen helt plötsligt.
Vi åt glass, kramades, grät och sedan var hon tvungen att gå, i den vackraste av alla sommardagar. Hon har haft ett långt och lyckligt liv, hon blev 13½ år igår. Vi är glada över att ha haft förmånen att få dela så många år med henne.
Nu finns inte vår clown med oss här längre. Det vi har kvar är alla fantastiska minnen och hennes barn, barnbarn och barnbarns barn. Vi saknar dig så, älskade BABBEN! Det är så tomt här hemma...
Her highness has left us, BABBEN passed away today.
This was a decision we had to take. Her legs wouldn´t carry her anymore, she was dizzy and all of a sudden no balance.
We had icecream, cuddled, cried a lot and then she had to go, on the most beautiful days of summer. She has had a long and lucky life, she was 13½ years old yesterday. We´re glad to have had the fortune to share all those years with her.
Now, our clown is not along us anymore. What´s left is all those fantastic memories and all her children, grand-children and great grand-children. We miss you so, dearest BABBEN! And it´s so empty at home...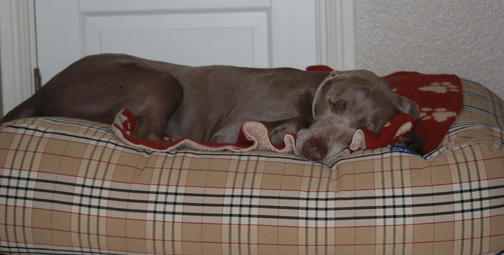 En av de sista bilderna på BABBEN, i sin älskade säng för några dagar sedan. / One of the last pictures of BABBEN, in her bed a couple of days ago.

Fortsätta till Disas Carmas Astis Pimms Terras eller Posh sida?