Carma kommer ur en kull om 9 valpar. Av dessa är 8 röntgade, varav 7 HD-fria. Ytterligare tre kullsyskon är jaktmeriterade (1:a och 2:a pris) och två systrar är viltspårchampions. Mer om vår G-Kull
Carma is from a litter of 9 puppies. 8 of them have their hips x-rayed, 7 of them with no remarks. Three of her littermates also have prizes from fieldtrials (1sts and 2nds) and two littersisters are bloodtrackingchampions. Read some more about our G-Litter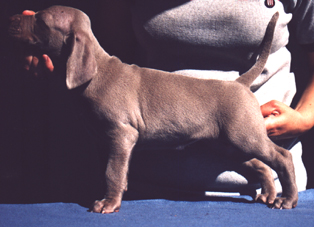 Carma, 6 veckor.
Carma är en mycket feminin tik, hon är kompakt och smidig. Hon är en härlig personlighet, alla älskar Carma!
Carmas meriter får tala för sig själv, men framför allt är hon en härlig jakthund. CARMA är ur vårt val ur BABBENS andra kull. Vi valde att behålla henne för att försöka föra hennes mors och mormors linjer vidare, två generationer jaktchampions! CARMA är vår tredje generation Svensk Utställningschampion och vår tredje generation Svensk Jaktchampion!

Carma is a very feminin bitch, she´s compact and slender. She has a lovely personality, everybody loves Carma!
Her merits speak for themselves, but first and most important - she´s a marvellous hunter! CARMA is our pick from the second litter of BABBEN. We chose her to pass her mothers and grandmothers lines further on in the future; two generations of huntingchampions! CARMA is our third generation of Swedish Showchampions and our third generations of Swedish Huntingchampions.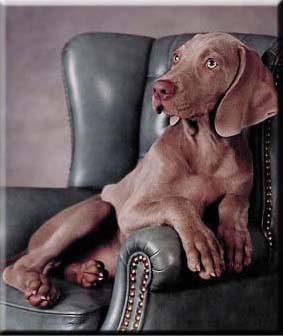 Carma, 12 veckor. © Elisabeth Ehnemark, E-foto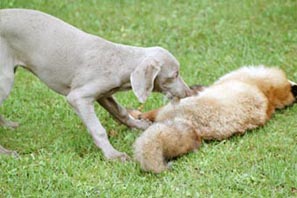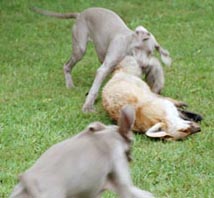 Carma, 3 månader.
CARMA blev Svensk Jaktchampion dagen efter hon fyllde 3,5 år. CARMA är den första svenskfödda och svenskägda weimaranern som även gått till pris på jaktprov i Danmark. Vi är mycket stolta över det! Och hon har, precis som far, mor, moster och mormor, vunnit SWeiKs KM i fält! Det har hon gjort 2004, 2006 och 2010. Hon är dessutom den första svenska weimaranern att gå till pris i elitklass på skogsprov!
CARMA är en klass för sig - en av Sveriges högst/mest jaktmeriterade weimaraner (mamma Babben har även hon tre elit-ettor!).

CARMA achieved her Huntingchampiontitle the day after she became 3,5 years old. CARMA is the first weimaraner bred and owned in Sweden, also having a prize from fieldtrials in Denmark. We sure are very proud! And she has, like her father, mom, aunt and grand-ma, won the SWeiK ClubChampionships in fieldtrials! She did won the prize three times! Also, she is the first swedish weimaraner having a prize from woodlandtrials in elit-class.
CARMA is in a class for herself - one of the most/highest huntingmerited weimaraner in Sweden (also her ma Babben has three firsts in elit-class!).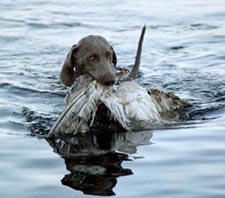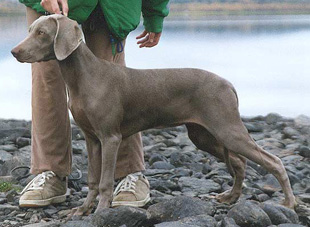 Carma, 5 månader. Bilden t h är tagen av Cattis Wik.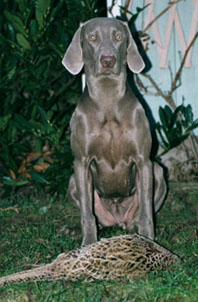 I januari skjöt vi första fasanen för Carma. Hon var då nio månader gammal.
Hon har tidigt stått, rest och respekterat fågel, men nu när allt var PERFEKT, fällde vi för henne.
Att hennes sök är friskt och frejdigt, gör inte saken sämre!
CARMA blev viltspårchampion 2006. I och med detta blev hon trippelchampion, en av tre i Sverige.
September 2008 startade hon på SVK:s fullbruksprov i Hjo. Av 8 startande hundar fick hon 204 p, ett tredjepris och en hedersam 4:e placering. Hon är härmed en av de två första svenska weimaraner som gått till pris på fullbruksprov! Deltog vid samma prov gjorde brorsdottern Wellieson Game som fick 205 p, ett tredjepris och en 3:e placering. Släkten är bäst!

CARMA finished her bloodtrackingchampion-title in 2006, which also means she is now a triple-champion!
In September 2008 she was entering the "full-trials". Out of 8 competing dogs she managed to have 204 points, third prize and became 4th. She´s hereby one of the first two swedish weimaraners who have had a prize at the full-trials!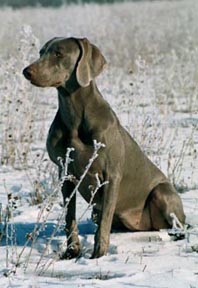 Carma, 2003-02-21.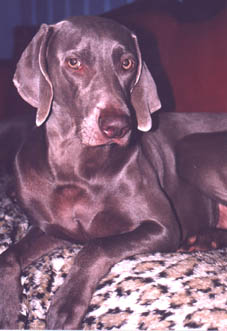 CARMA hade sin första kull valpar med Billy des Brumes des Bois, "Billy". Dessa föddes 2 mars 2006. Av dessa härliga valpar är hittills fem jaktprovsmeriterade (i Sverige, England, Finland och Frankrike), två är jaktprovschampions (SE och FR) och fem är hd-röntgade utan anmärkning. Mer om dessa valpar kan ni läsa om på I-Kullens egen sida. Vi har själva behållt en tik ur den kullen, PIMM.

CARMA had her first litter in March 2006. Sire of the litter was the belgian male Billy des Brumes des Bois, "Billy". Out of these lovely puppies this far five of them are awarded at fieldtrials (in Sweden, England, Finland and France) , two of them being fieldtrialchampions (SE and FR), and five are hip-x-rayed with no remarks. ut the I-litter on their own site. We have kept a female from this litter at home, PIMM.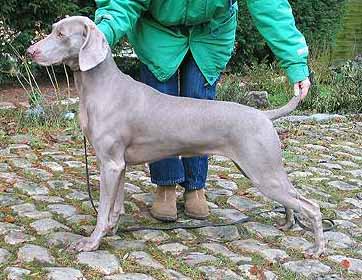 Carma. © Eléonore Lequime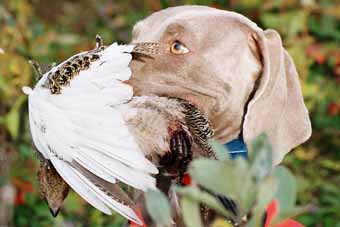 Carma, september 2005.
CARMA hade sin andra och sista kull valpar med J SUCH Landsbygdens Retur, Nisse". Dessa föddes 6 juni 2008. Av dessa underbara valpar är hittills sex hd-röntgade varav fem är hd-fria. Ännu så länge är fyra jaktprovsmeriterade på jaktprov. Mer om dessa valpar kan ni läsa om på K-Kullens egen sida. Vi har själva behållt en tik ur den kullen, TERRA.

CARMA had her second and last litter with the swedish male J SUCH Landsbygdens Retur, Nisse", in June 2008. Six of them have done their hip-x-rayed, five being without no remarks. Yet, four of them have been awarded at fieldtrials. More about the K-litter on their own site. Our pick of the litter is a female, staying with us, called TERRA.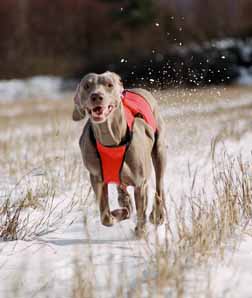 Carma, februari 2007.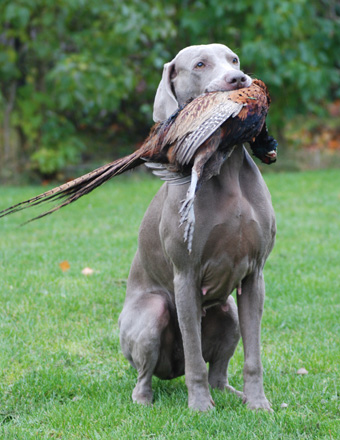 CARMA och hennes fasan, 2009-10-11.
CARMA goes YouTube: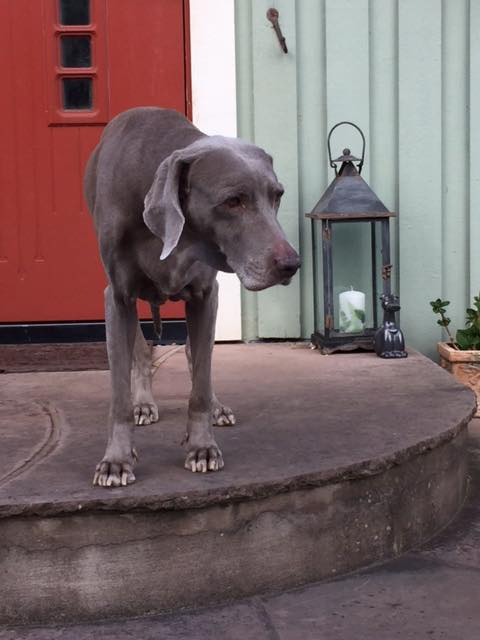 The very last picture of CARMA. She passed away 2016-08-16.

Fortsätta till Astis Babbens Disas Pimms Terras eller Posh sida?