TERRA är ur vårt val ur CARMAS andra kull. Vi valde att behålla henne för att försöka föra hennes mors, mormors och mormors mors linjer vidare, tre generationer jaktchampions!
TERRA är nu Sveriges yngsta weimaraner genom tiderna som blivit jaktprovschampion, endast två år och nästan fyra månader gammal! Hon har ett gott arv, mamma CARMA blev SE JCH när hon var 3,5 år, mormor BABBEN var 5,5 år precis som mormors mor ASTI. Det känns otroligt bra när man vet att det man satsat på slagit rätt! Vi är unika med vår tiklinje, där vi har fyra av oss ägda, varav tre egenuppfödda dubbelchampions (SE UCH och SE JCH). Det är inte många som kan toppa det, i synnerhet inte i Skandinavien, om någon ens kan det...
Inte att förglömma; Naturligtvis har vi också haft förmånen att använda några fantastiska hanhundar till våra tikar som även de självklart har tillfört sitt. Det tackar vi särskilt för!
CARMA blev Svensk Jaktchampion dagen efter hon fyllde 3,5 år. CARMA är den första svenskfödda och svenskägda weimaranern som även gått till pris på jaktprov i Danmark. Vi är mycket stolta över det! Och hon har, precis som far, mor, moster och mormor, vunnit SWeiKs KM i fält!
NISSE är en härlig! Han visade tidigt ha en mycket stor potential; härlig jakthund med en härlig mentalitet och ett skönt yttre. Idag är han multichampion! Redan som unghund lärde vi känna NISSE och han vann SWeiKs Weimaranermästerskap 2007. Tack Elisabeth och Anders, för att vi får möjlighet att använda NISSE!

TERRA is our pick of the litter from CARMA´s second litter. We chose to keep her; the legacy of her mother, grand-mother and great grand-mother - three generations of fieldtrialchampions!
TERRA is now the youngest weimaraner in Sweden ever, having that title, at the age of only 2 years and almost 4 months! She has a good legacy, mom CARMA became SE JCH only 3,5 years old, granny BABBEN was 5,5 years like great grandma ASTI. It feels great when you know that what you have invested in struck so right! We are unique with our bitch-line, where we have four of us owned, including three home-bred dual-champions (SE and SE CH JCH). It is not many who can top that, particularly in Scandinavia, where no one can ...
Not to forget, of course, we also have had the privilege to use some fantastic dogs to our females who also have brought a deal into it all. We are most grateful in particular for the honour!
CARMA became Swedish Fieldtrialchampion (Svensk Jaktchampion) the day after she was 3,5 years old. CARMA is the first swedish-bred and swedish-owned weimaraner having a prize at fieldtrials in Denmark. We´re very proud of it! And she has, like her father, mother, aunt and grand-mother, became the winner of SWeiK Clubchampionships in fieldtrials!
NISSE is a lovely dog! He showed early lots of potential; an excellent hunter with a lovely temper and a goodlooking exteriour. Today, he is a multichampion! Already as a youngster, we learned to know NISSE, and he won the SWeiK Weimaranerchampionships in 2007. Thanks, Elisabeth and Anders, for letting us use NISSE!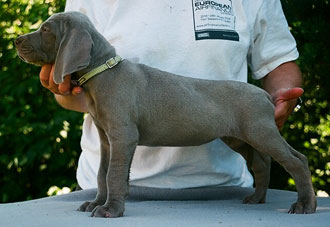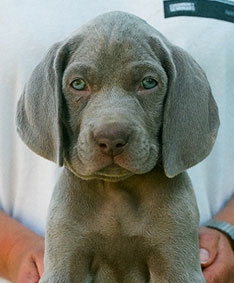 Terra 6 veckor
TERRA kommer ur en mycket spännande kombination! I treledsstamtavlan är 12 av 14 hundar jaktmeriterade! Vi är hittills enda uppfödare av weimaraner som har tre generationer av våra egna jaktprovschampions i rakt nedstigande led i valparnas stamtavla!

TERRA is out of a very exciting combination! In a three-generationpedigree, 12 out of 14 dogs have prizes from fieldtrials/huntingtests. Still, we are the only breeders of weimaraners in Sweden having our own three generations of HuntingChampions in the puppies pedigree!
13 augusti 2008:
Efter en hemskt tråkig gårdagkväll som avslutades på djursjukhuset summerar vi:
TERRA lekte tillsammans med sin bror och mor i trädgården. Troligen har hon fastnat och vridit runt sitt högra bakben under en stentrapp, så underbenet har gått sönder. Det är inte helt av, en s k spiralfraktur. Gipsskena och ordinerad vila.

TERRA was playing with her brother and dearest mom in the garden. She has probably got stuck with her leg somewhere, twisted it around and the right backleg was broken. Luckily, it´s not broken into pieces! Veterinary orders are plaster and rest...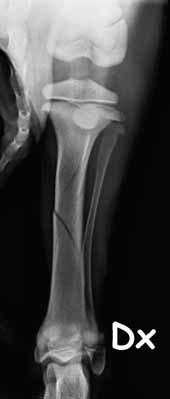 Röntgen: Läckeby Djursjukhus
Idag har vi tillbringat större delen av dagen på vår djurklinik (helt otroligt fantastisk personal!) och lagt om gipsskenan. Nu hoppas vi att TERRA snart blir bra i sitt ben!

Today we have spent most of the day at the vets (marvellous staff!) and made a new plaster. We do hope that TERRA gets well soon in her leg!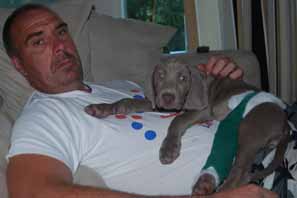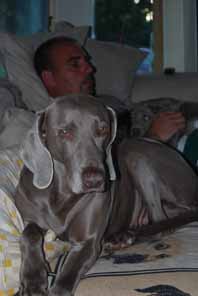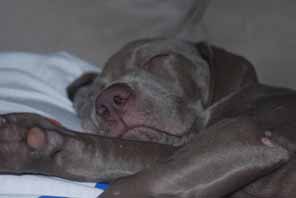 1) Husse och TERRA myser i soffan. 2) Mormor BABBEN håller koll på läget. 3) Hur söta är inte sovande valpar?!
1) Nicke and TERRA cuddling in the sofa. 2) Granny BABBEN keeps an eye. 3) How adorable are´nt they, sleeping puppies?!
11 september 2008:
TERRAs ben läker fint! Röntgen visar att frakturen läkt helt, hon slipper nu stödbandage och vi har varit hos rehab för att lära oss hur vi ska utföra sjukgymnastik en tid framöver för att hon ska få full rörlighet i sitt ben!
TERRA´s leg is getting better! The x-ray shows that she now has to get rid of the bandage, and we have been to rehab to learn how to help her getting the leg in order for a full mobility!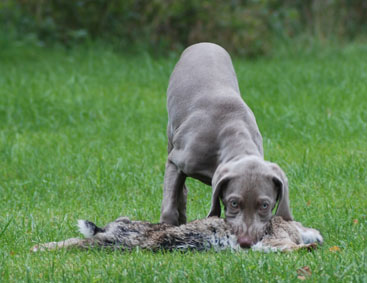 TERRA 14 veckor. "Om blickar kunde döda..." / "If looks could kill..."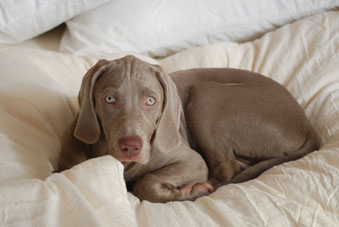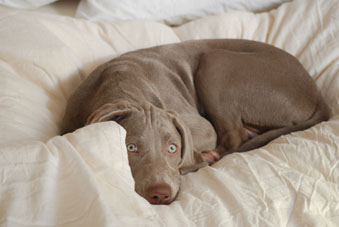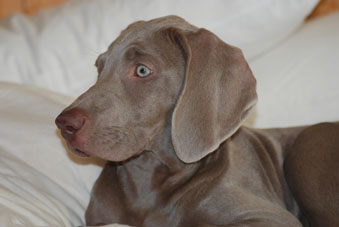 TERRA: Jag vet att jag inte får vara i sängen... Bäst att gömma sig... Och hålla koll så ingen kommer...
I know I´m not allowed in bed... Better hide... and watch out so nobody sees me...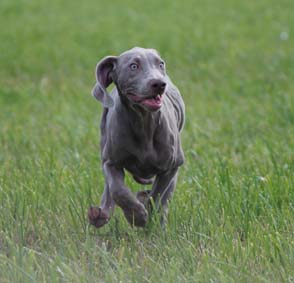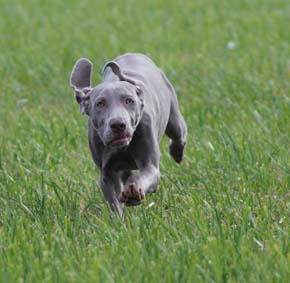 TERRA oktober 2008.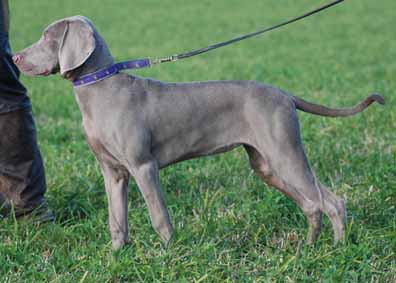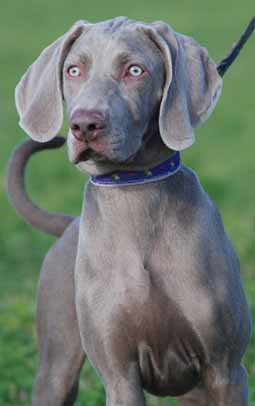 TERRA 4½ månad gammal.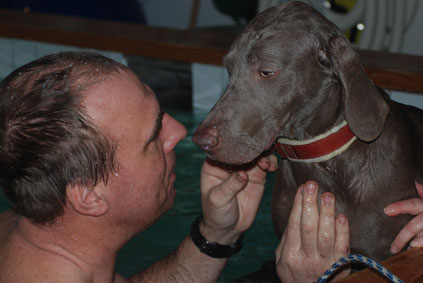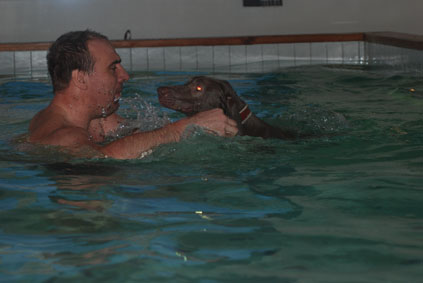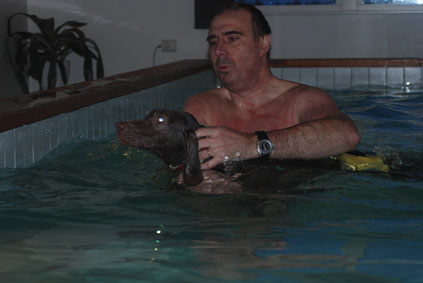 Terra på hundsim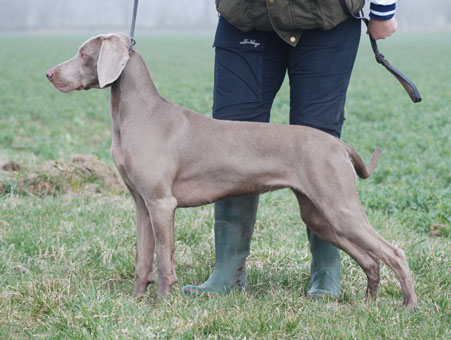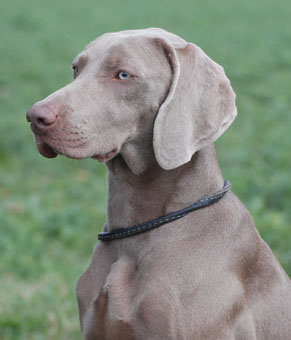 Terra 10 månader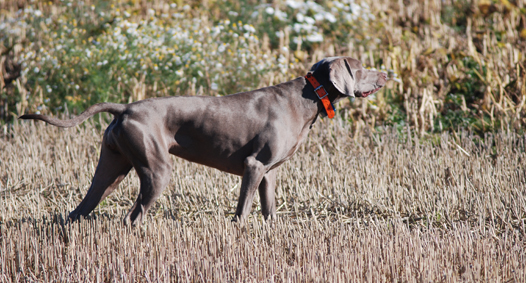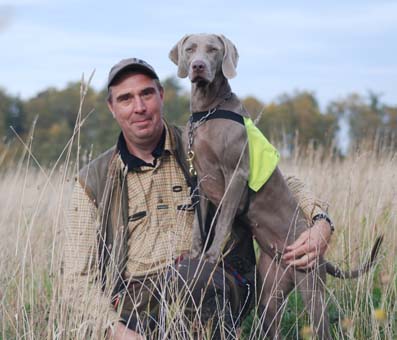 Nicke & TERRA; två förstapris i unghundsklass vid fältprovet i Enköping, september 2009.
two firsts in youth-class at the FTs in Enköping in September 2009.
TERRA är en glad och öppen individ. Hon är okomplicerad att leva med och älskar allt och alla! Hon jagar bra och är alltid villig att vara till lags. Ännu är hon en ung hund, framtiden får visa vad den bär med sig!
Exteriört är hon en tik av det mindre formatet. Hon har ett härligt könspräglat huvud, bra front och bär sin rygg i rörelse. Hon har härliga vägvinnande rörelser och är ett litet muskelknippe, precis som sin mor.

TERRA är en glad och öppen individ. She´s very uncomplicated to live with and loves everybody! She´s a good hunter and is allways willing to please. Yet, she´s very young, the future will show us what it brings!
Exteriourly, she´s a smaller bitch. She has a lovely feminine head, good front and carries her back in movement. She has a lovely gait and lots of muscles, like her mom.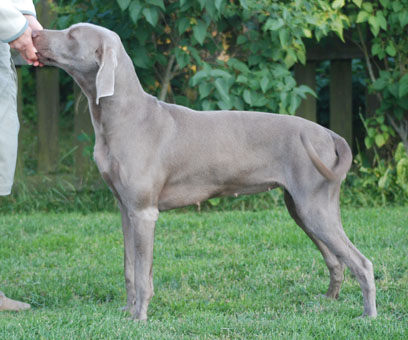 Terra 13 månader
TERRA kommer ur en kull om åtta. Av dessa är hittills sex hd-röntgade varav fem utan anmärkning. Fram till dags dato är fyra av dem jaktprovsmeriterade.

Mer om vår K-Kull
TERRA is from a litter of eight. Out of these, six have done their hip-x-rays, five of them with no remarks. Up til now, four of them have been awarded at fieldtrials.

More about our K-Litter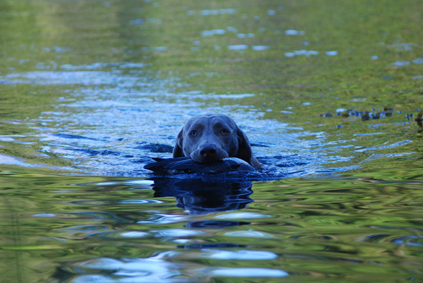 TERRA hade sin första kull valpar med den polske hanen MultiCH Le Fol Du Vent Fala Loveá. Dessa föddes 19 januari 2011. Mer om dessa valpar kan ni läsa om på M-Kullens egen sida.

TERRA had her first litter with the polish sire MultiCH Le Fol Du Vent Fala Loveá. The litter was born January 19th in 2011, five males and three females. More about the puppies in our M-litter on their own site.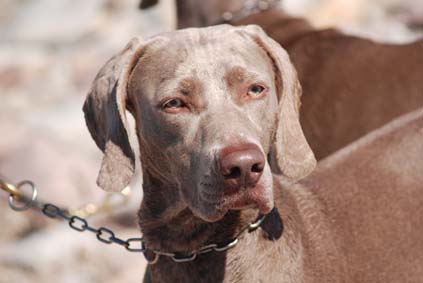 TERRA, 3 år gammal / 3 years old.
TERRA hade sin andra och sista kull valpar med den franskfödde hanen MultiCH Fly Me To The Moon von Silberweiss Jäger. Dessa föddes 18 juni 2013. Mer om dessa valpar kan ni läsa om på N-Kullens egen sida.

TERRA had her second and last litter with the french-born sire MultiCH Fly Me To The Moon von Silberweiss Jäger. The litter was born June 18th in 2013, five males and two females. More about the puppies in our N-litter on their own site.

Fortsätta till Astis Babbens Carmas Disas eller Pimms sida?